1 - Like the Planets Love the Sun
2 - Bukowski on the Beach
3 - Stars Will Die Tonight
4 - Nothing is Ever Lost
5 - Requiem for Max
6 - Burial at Sea
7 - Ladder to the Moon
8 - All the Momentary Moths
9 - Dreams We Never Dreamed
10 - Or Perhaps You Imagined It All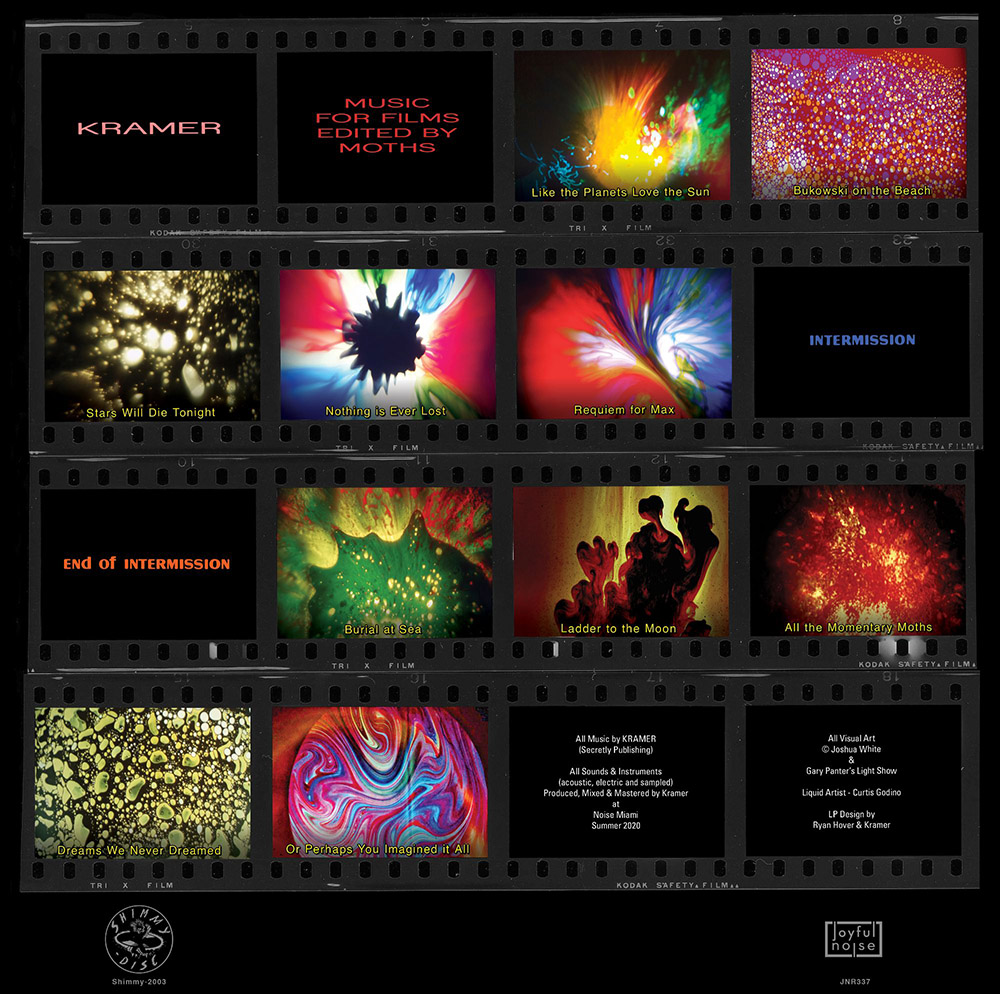 All Visual Art © Joshua White & Gary Panter's Light Show
- liquid artist Curtis Godino

LP Design by Kramer & Ryan Hover

All Sounds & Instruments (acoustic, electric and sampled)
Produced, Mixed & Mastered by Kramer
at Noise Miami, Summer 2020

************

Nothing is less real than realism. Details are confusing.
It is only by selection, by elimination, by emphasis,
that we get at the real meaning of things.
- Georgia O'Keeffe, 1922

*******************

Cinema begins in the mind, and mine was filled with scorpions when i created
these ten homeless soundtracks for films that do not exist outside of my mind.

Cinema for the ears, from the ears.
If you stare at something long enough, it makes music.

See for yourself.
Stare hard and deep into the black hole on the front cover of this LP, my Love,
and tell me what You hear.
These are the strangest of times. It breaks my heart,
despite it having already been broken.

Yes, this music is for You.

Night doesn't Fall. It Rises.

- Kramer
Nov. 2020

'Music for Films Edited by Moths' video series by Tinca Veerman
The new album by Kramer, 'Music for Films Edited by Moths', will be accompanied by a series of 10 videos made by Dutch multi-media artist Tinca Veerman. Veerman's organic visuals seem to embody the atmospheric compositions of Kramer: an interplay of scintillating circles (Like the Planets Love the Sun), the grasping motions of seaweed in shallow water (Burial at Sea), and dreamily shifting clouds under a solitary man-made star (Stars Will Die Tonight).

Tinca Veerman is a restless artist. She looks at the world around her and cannot help but see abstract shapes. She is not interested in making realistic renderings, but in isolating parts and movements of objects and natural elements, so they become abstract and multi- interpretable. Veerman works intuitively, waiting for the right moment to 'dive in', to cut, edit, paste, or draw to reveal, in her own words, 'the shape I feel should be there'. In her collages (ranging from large-scale and thickly layered to small and delicate), videos, and sculptural fabric pieces, she explores various ways of abstrahizing; departing from a deeply personal space to transcend it. Repetition is not her thing.

Music is another source of inspiration for Veerman. The physical sensation of music – a fuzz pedal turning on, a climax on stage – she sees in shapes and colors. So, the collaboration with Kramer comes naturally to her. Fascinated by the possibilities of interpretation and the interplay between the personal and the universal, she set to the intriguing task of visualizing Kramer's soundtracks for films that exist solely in his imagination. With Kramer's music in mind, she began shooting footage of natural elements or places void of people. Once she identifies a 'shape' that fits a particular song, she moves it beyond the recognizable, creating a compelling 'visual soundscape'. A flame to attract us moths.